Nick Bernabe
October 14, 2015
(ANTIMEDIA) San Diego, CA — The Syrian civil war rages on, displacing as many as 11 million people and killing nearly 300,000 as the conflict reaches into its fifth year. Syria, a longtime ally of Russia, has been receiving material support from the Eastern giant since the 1940s. As Anti-Media reported last month,
"Russia's support for Syria dates back to 1946, when Russia helped consolidate Syria's independence. The two countries mutually came to a diplomatic and military agreement in the form of a non-aggression pact, which was enacted on April 20, 1950. In this pact, Russia promised support to the newly-created Syria by helping to develop its military and by providing tactical support. Essentially, Russia and Syria have been cooperating for decades both militarily and economically, with Russia maintaining a naval base on the Syrian Mediterranean."
Meanwhile, the United States also has its own designs on the region. In 2013, President Obama, along with John Kerry, attempted to stir up enough public support for a direct regime change in Syria, tugging at the American public's freedom-spreading, democracy-loving heart strings. This attempt at a public overthrow of the Syrian government failed, with Americans responding with the massive #NoWarWithSyria protest movement. However, the drive for regime change didn't end just because the government stopped talking about it. The CIA continued to arm basically any group willing to fight against the Assad government. The Pentagon also tried (but failed), to manufacture an American-allied army out of so-called moderate Syrian rebels at the cost of $500 million — who, on paper would oppose ISIS, but in reality work to oust Assad.
Russia, who has been a Syrian ally for decades, has remained steadfast in its support of the Assad regime — openly supplying weapons, aircraft, tanks, intelligence, and human resources in the form of military advisers. Russia also operates a naval base on Syria's Mediterranean shores.
By any measure, this is a textbook proxy war between military powers vying to maintain their own economic interests in the Middle East. However, five years later, it seems the corporate media is finally "realizing" this shadow war for what it is. Over the weekend, The Washington Post ran an article titled, "Did U.S. weapons supplied to Syrian rebels draw Russia into the conflict?" The article goes on to state:
"American antitank missiles supplied to Syrian rebels are playing an unexpectedly prominent role in shaping the Syrian battlefield, giving the conflict the semblance of a proxy war between the United States and Russia, despite President Obama's express desire to avoid one."
Then, on Monday, The New York Times published a piece titled "U.S. Weaponry Is Turning Syria Into a Proxy War With Russia." The article admits that Syrian rebels are receiving abundant amounts of arms from the CIA, which are being used to fight the Russian-backed advance of Assad's troops as he tries to take back Syria from the various rebel, Islamist, and terror groups that have overtaken much of countryside.
Understanding that the U.S. public has been war-weary since the Iraq War debacle, Obama was forced to change his rhetoric from regime change in Syria to fighting terrorism in the form of ISIS. The ample fear-mongering provided by ISIS brutes gave Obama the public support he needed to renew America's seemingly permanent war in Iraq while giving him a back-door into Syria. The U.S. is currently bombing both countries, joined by a coalition of 62 partners, with Russia now officially throwing its hat into the bombing bonanza ring.
What should be clear is that the Unites States' priority in the region is not to defeat ISIS, but instead to overthrow Assad. Clever rhetoric disguises America's covert intentions, but the actions — and subsequent paper trail — paint a very clear picture of what is truly happening in Syria. WikiLeaks gives us some insight into the West's designs on Syria, providing a window into the longtime campaign to oust Syrian president, Bashar al-Assad. A new book that analyzes diplomatic cables leaked by Chelsea Manning, The WikiLeaks Files: The World According to U.S. Empire, reveals the U.S. had a longstanding regime change policy in Syria that dates back long before the 2011 Arab Spring uprising that rocked the Middle East.
"A December 13, 2006 cable, 'Influencing the SARG [Syrian government] in the End of 2006,' indicates that, as far back as 2006 – five years before Arab Spring protests in Syria – destabilizing the Syrian government was a central motivation of U.S. policy. The author of the cable was William Roebuck, at the time chargé d'affaires at the U.S. embassy in Damascus. The cable outlines strategies for destabilizing the Syrian government. In his summary of the cable, Roebuck wrote:
'We believe Bashar's weaknesses are in how he chooses to react to looming issues, both perceived and real, such as the conflict between economic reform steps (however limited) and entrenched, corrupt forces, the Kurdish question, and the potential threat to the regime from the increasing presence of transiting Islamist extremists. This cable summarizes our assessment of these vulnerabilities and suggests that there may be actions, statements, and signals that the USG can send that will improve the likelihood of such opportunities arising.'"
These cables reflect an even older plan, which was detailed by Dan Sanchez at AntiWar.com:
"A veritable 'carpe chaos' manifesto was written in 1996 for a Washington think tank by David Wurmser, an Israel-first neocon (but I repeat myself) who would later play a key role in the Bush administration's drive to the Iraq War: advising Dick Cheney in the Vice President's Office, assisting John Bolton at the State Department, and fabricating fanciful 'connections' between Iraq and Al Qaeda at the Department of Defense.
In 'Coping with Crumbling States: A Western and Israeli Balance of Power Strategy for the Levant,' Wurmser made a case for 'limiting and expediting the chaotic collapse' of the Baathist governments in Iraq and Syria."
Declassified documents from the U.S. Defense Intelligence Agency (DIA) suggest that ISIS is simply a convenient  — and dare we say welcome — side effect of the West's destabilization agenda in Syria and Iraq.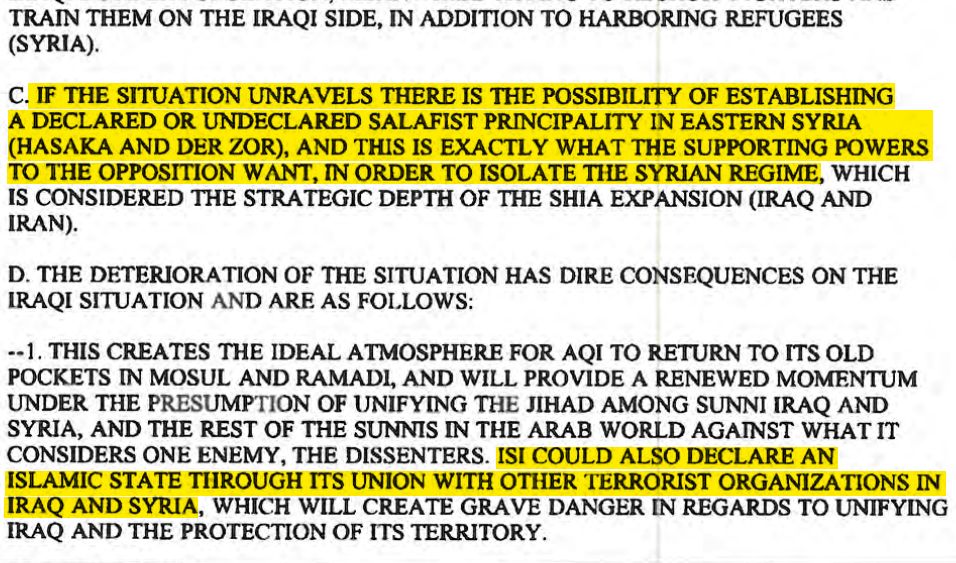 Sanchez continued to describe this plan:
"Then, after the 2011 'Arab Spring' of popular uprisings reached Syria, 'The Redirection' went into overdrive. The US-led regional coalition (Turkey, Jordan, Saudi Arabia, Qatar, etc.) has been strenuously trying to overthrow the Syrian regime of Bashar al-Assad since at least 2012 by heavily sponsoring an insurgency led by jihadists including Al Qaeda and ISIS."
The Wurmser plan seems to be materializing before our eyes in Syria.
What is hidden beneath all of this information is why the United States wants Assad ousted from power so badly. The most obvious excuse was his open abuse of human rights. And while this was the exact story-line given to the U.S. public from our "friends" in the media, the rhetoric comes off as empty at best, considering the U.S. actively supported Saudi Arabia's brutal crackdown of Arab Spring protesters. We learned during the Arab Spring that our Gulf State allies were allowed to kill as many pro-democracy protesters as they wanted (hell, we even supplied them with the weapons to do it), while any non-allies were not. Muammar Gaddafi learned this the hard way. Meanwhile, Ali Mohammed al-Nimr, a Saudi national, is awaiting execution by crucifixion for the crime of protesting the Saudi government during the Arab Spring. But crucifying a guy for protesting is fine with the United States because Saudi Arabia is one of our closest allies in the region. Repression is alright as long as it's our guys doing it, right?
With the mythical human rights argument out of the way, the following question emerges: What is the true agenda causing the U.S.-Russia proxy war in Syria? In short, it is resources, power, and hegemony.
While nearly every war the U.S. involves itself in is sold as a humanitarian effort to either stop terrorism or spread democracy, studies show that countries with resources such as fossil fuels are over 100 times more likely to see foreign involvement in their internal conflicts. America is often the foreign force that arms and finances different sides of these conflicts. Coincidentally, in Syria, so is Russia.
While this geopolitical scenario is rather complex, it makes perfect sense. The U.S. has been trying to contain Russia since World War II, and those policies of containment are still in effect today. America enjoys its role as the only remaining superpower and has an interest in maintaining that hegemony. To make things perfectly clear, this is the main driver behind the Syrian Civil War.
Russia has somewhat of a monopoly over the gas supplies needed for Europe's economy to operate. This gives Russia a semi-permanent economic base to fund its foreign policy agenda and maintain its own geopolitical strategy. The U.S. and its NATO allies want to end that monopoly, but in order to accomplish that, a pipeline must be built from the Sunni Gulf states, starting in Qatar, going through Jordan and Syria, and making its way into Turkey. From Turkey, the gas supplies will be distributed into Europe, effectively undermining Russia's current arrangement with the European Union and placing its economy in a state of uncertainty. This would eventually lead to a flight of investment away from Russia and subsequently permanently damage what's left of Russia's resource-dependent economy. This explains Russia's steadfast support for the Assad government. As The Guardian documented back in 2013:
"Assad refused to sign a proposed agreement with Qatar and Turkey that run a pipeline from the latter's North field, contiguous with Iran's South Pars field, through Saudi Arabia, Jordan, Syria and on to Turkey, with a view to supply European markets – albeit crucially bypassing Russia. Assad's rationale was 'to protect the interests of [his] Russian ally, which is Europe's top supplier of natural gas.'"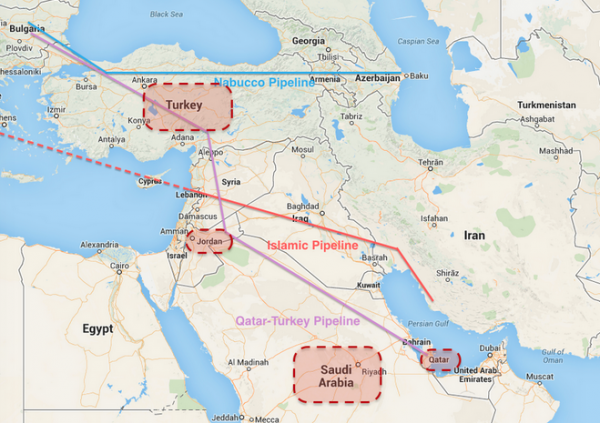 Mnar Muhawesh of Mint Press News describes these pipeline plays in her article, "Migrant Crisis & Syria War Fueled By Competing Gas Pipelines":
"Knowing Syria was a critical piece in its energy strategy, Turkey attempted to persuade Syrian President Bashar Assad to reform this Iranian pipeline and to work with the proposed Qatar-Turkey pipeline, which would ultimately satisfy Turkey and the Gulf Arab nations' quest for dominance over gas supplies, who are the United State's allies. But after Assad refused Turkey's proposal, Turkey and its allies became the major architects of Syria's civil war."
It's unfortunate that it took the corporate media all these years to "discover" that the United States and Russia are fighting a geopolitical proxy war in Syria. It remains to be seen how many more years and lost lives it will take for them to also "discover" that this proxy war is being fought over resources and power. It's a sad state of affairs when the Western media provides humanitarian cover for the U.S. and NATO to fuel a brutal civil war — which has taken the lives of nearly 300,000 people — simply to create economic advantages for NATO states and allies while undermining stability in the Middle East — creating the greatest humanitarian catastrophe since World War II. And as millions of refugees continue to pour out of Syria into Europe and abroad, the NATO-dominated public of the E.U. and U.S. remain largely ignorant to the fact their own governments helped create the refugee crisis they so abhor.
Source: https://theantimedia.org/mainstream-media-finally-admits-syrian-conflict-is-us-russia-proxy-war/
Other places to find me: